How Much Does it Cost to Build an App Like DoorDash
It's no secret that for today's consumers, convenience is king. This is part of the reason why the digital-powered food delivery industry has been flourishing in recent years, with apps like DoorDash becoming increasingly popular at the center of this digital revolution.
DoorDash is an app that connects local restaurants with customers, allowing users to browse menus, place orders, and track their food deliveries from this single app.
The app is popular for many different reasons, but mainly:
DoorDash provides its users with a convenient and reliable way to get food delivered straight from their smartphone or computer.
It provides a wider selection of restaurants and food stalls than traditional food delivery/takeout services
It has a real-time and accurate tracking feature, so users can easily track their orders and see how long they will take to arrive
With that being said, the food delivery industry itself has been one of the fastest-growing industries globally. The global Online Food Delivery market size was valued at USD 152 billion in 2021 and is expected to expand at a CAGR of 10.98% during the forecast period, reaching USD 284 billion by 2027.
So, if you are looking to build a new food delivery app like DoorDash, there is simply no better time to enter this lucrative industry, and this article will tell you how.
The purpose of this article is to help you explore the intricacies of creating a food delivery app like DoorDash, including how much you'll need to spend. We'll cover the steps, costs, and key considerations that you'll need to keep in mind when building this app.
We'll provide you with a roadmap whether you are an aspiring entrepreneur or just someone who is curious about the process of building a DoorDash-like app, and let us embark on this journey right away.
Understanding the DoorDash Business Model
How does DoorDash make money, and why is it successful?
DoorDash's business model connects three different parties: the restaurants, the customers, and the food delivery couriers:
Restaurants: Restaurants join and use DoorDash to amplify their reach, attracting new customers and increasing revenue. DoorDash charges restaurants a commission fee on each order received.
Consumers: Consumers download and use DoorDash to browse local restaurants, place orders, and get food delivered to their homes or offices. DoorDash charges the consumers with a service fee and delivery fee on each order.
Couriers: Also called "dashers," they are independent contractors who pick up orders from restaurants via the DoorDash app and then deliver the orders to customers. DoorDays pays dashers a fee for each delivery completed.
Monetization Options for Food Delivery Apps
As we can see, food delivery apps like DoorDash can generate revenue in various different ways, but the main ones are:
Commission on orders: Charging a commission on restaurants when an order is placed through the app. The commission typically ranges between 15% and 30%.
Delivery fees: Charging the customers a delivery fee for each order, typically in the range of $4 to $8.
Subscription fees: The food delivery apps can offer premium plans to customers and restaurants that give access to exclusive features and benefits. For example, restaurants can get a boosted presence in search, while customers can get free delivery or special discount offers during the subscription.
In-app advertising: The app can generate revenue through displaying in-app advertising in the form of banners, sponsored restaurant listings, pop-ups, etc.
DoorDash needs to make sure they are providing as many restaurant/food kiosk options as possible to consumers while also ensuring reliable delivery. To achieve this, there are three key important factors
Restaurant partnerships: DoorDash collaborates with a massive network of restaurants, from food trucks to local eateries to nationwide restaurant chains. If you plan to build a successful DoorDash-like platform, you'll need to ensure extensive order selection by also partnering with an adequate number of restaurants.
Delivery network: The key driving force ensuring DoorDash's fast and reliable operation is the army of dashers—the food delivery couriers—, which act as a bridge between restaurants and customers.
Ease of use: DoorDash is incredibly intuitive and easy to use for customers, restaurant owners/managers, and dashers. To achieve success in your food delivery network platform, you'll also need to ensure convenience and intuitive user experience.
Critical Features and Functionalities of DoorDash
Below are the critical features and functionalities needed in a food delivery app like DoorDash:
1. User registration and profiles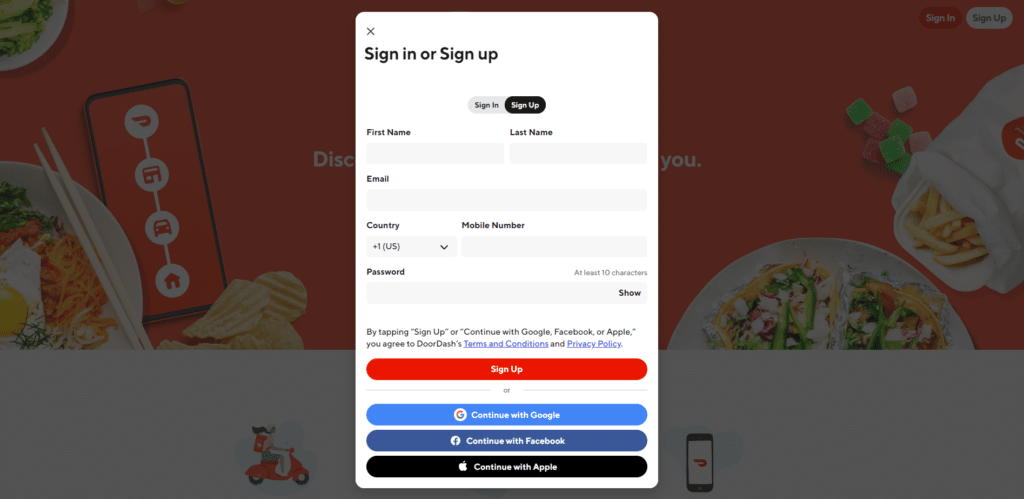 Different types of accounts for restaurant owners/managers, customers, and food couriers
Facilitate easy user registration, allow users to register via email, phone number, social media account, and other options
Restaurant listings should be comprehensive with menus, prices, and user ratings/reviews
2. Restaurant listing and search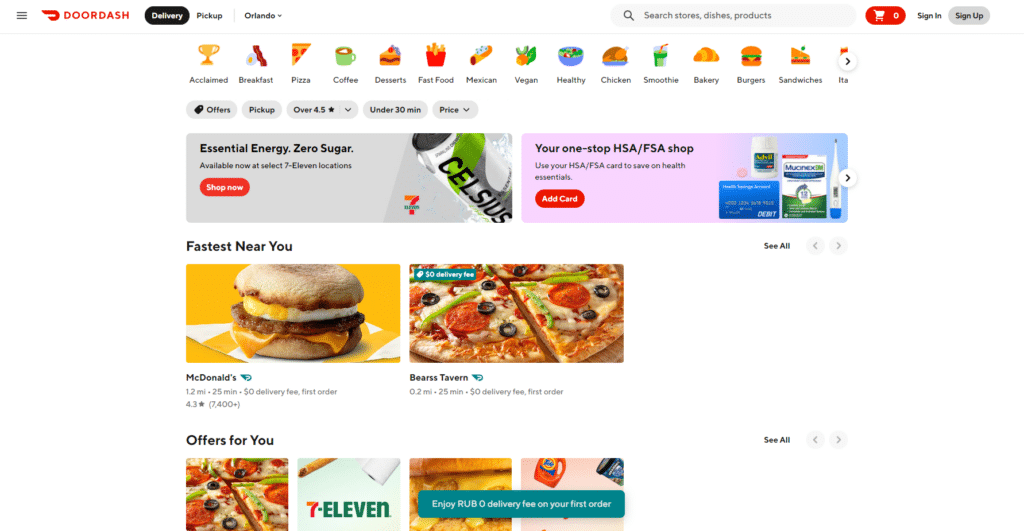 At the core of a food delivery app is the extensive database of a wide variety of restaurants
Comprehensive restaurant profiles with menus, prices, and user review/ratings
Search functionality and filter options
(Optional) Search based on dietary restrictions and preferences
3. Convenient ordering process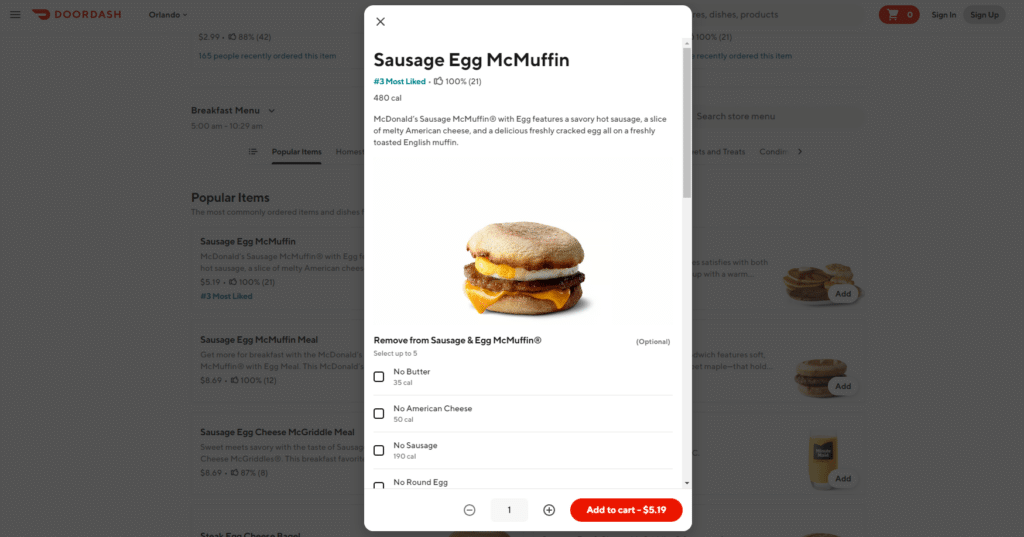 Intuitive and easy-to-use ordering process, allowing customers to place orders easily
(Optional for different restaurants) The ability to customize orders, select portion sizes, and add special instructions with each order
4. Secure payment integration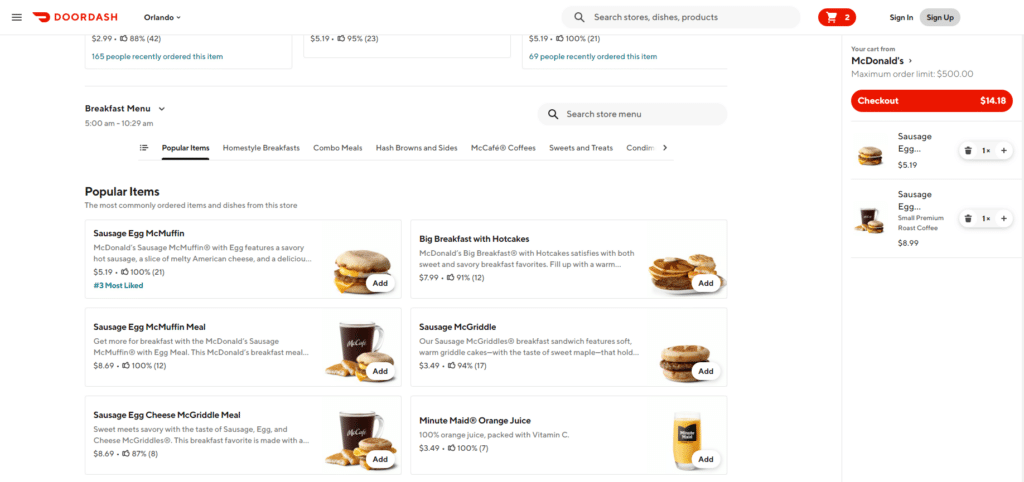 Provide seamless, reliable, and secure payment processing with end-to-end encryption
Offer multiple payment options, including credit/debit cards, cash on delivery, and popular digital wallets.
5. Real-time order tracking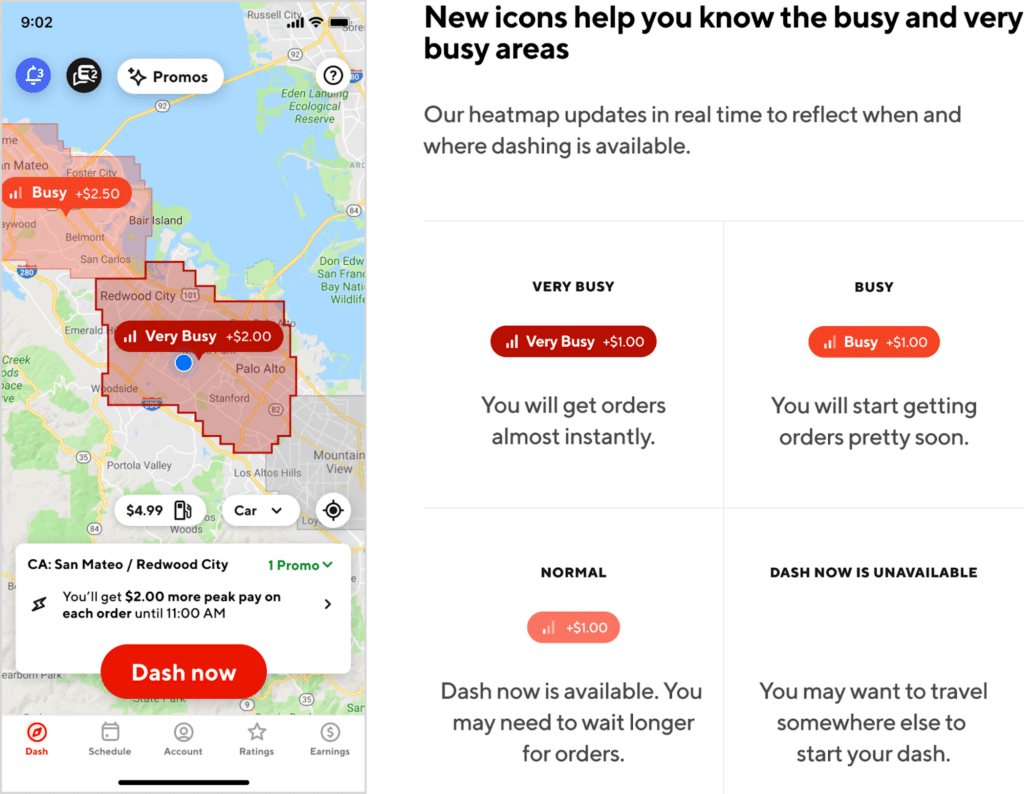 Make sure customers can track their orders in real-time on a map, showing the location of the courier and the status of the delivery
Provide estimated delivery times to allow customers to better plan their time
6. Ratings and reviews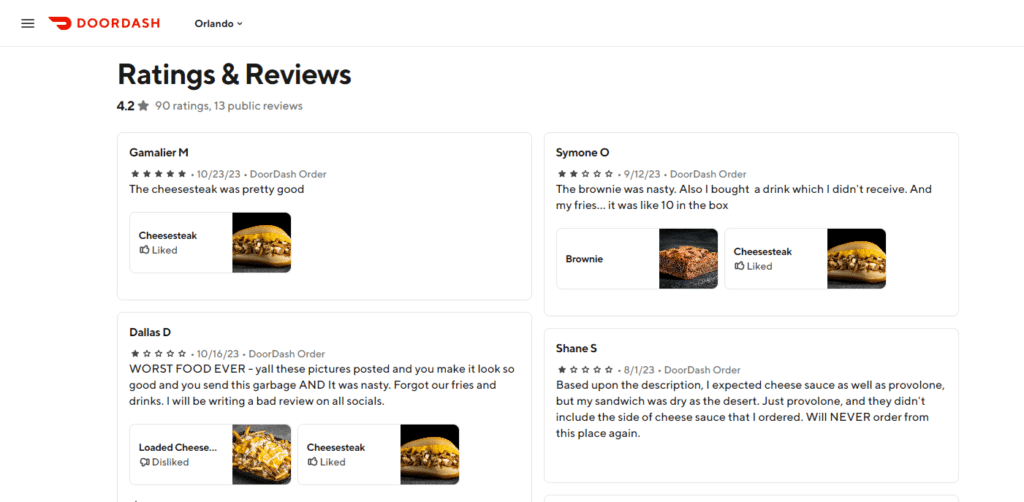 Allow customers to rate and review restaurants, as well as delivery couriers. Doing so will provide users with valuable insights when making their decisions.
Moderation tools to ensure appropriate and non-offensive reviews, and to dispute/filter out fake reviews/ratings
7. Order history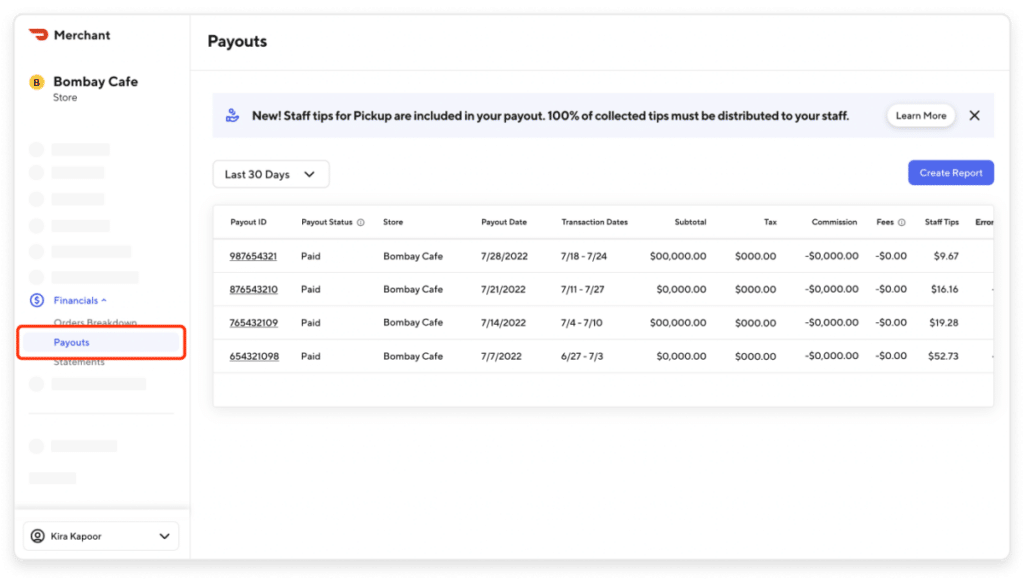 Provide comprehensive and intuitive order history. Useful for customers to reorder and to keep track of their expenses.
For restaurants, order history is important for analytics purposes (i.e., keep track of best-selling items)
Provide receipts and invoices for each order.
8. Delivery courier matching system
Driver profiles and rating system
A reliable system to match delivery couriers with orders based on availability, location, and other criteria
9. Push notifications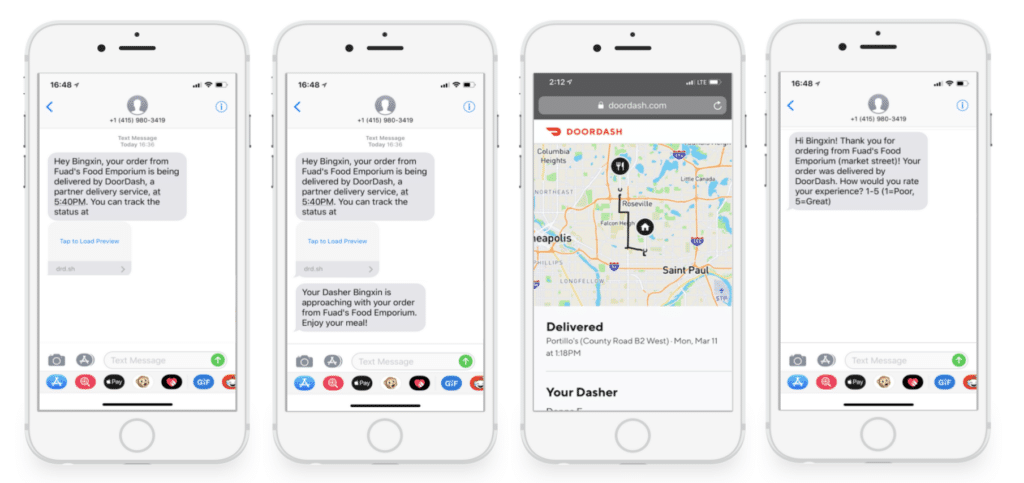 Real-time notifications for order confirmation, updates, status changes, estimated delivery times, promotions, and other information
10. In-app communication
Provide reliable in-app communication options (chat, call, etc.) between customers, restaurants, and delivery couriers.
11. Geolocation services
Provide location-based restaurant suggestions
GPS integration to detect user locations for accurate delivery and for customers to keep track of the courier's current location
12. Promotion and discount system
Promo codes, discounts, loyalty programs, etc.
13. Restaurant admin dashboard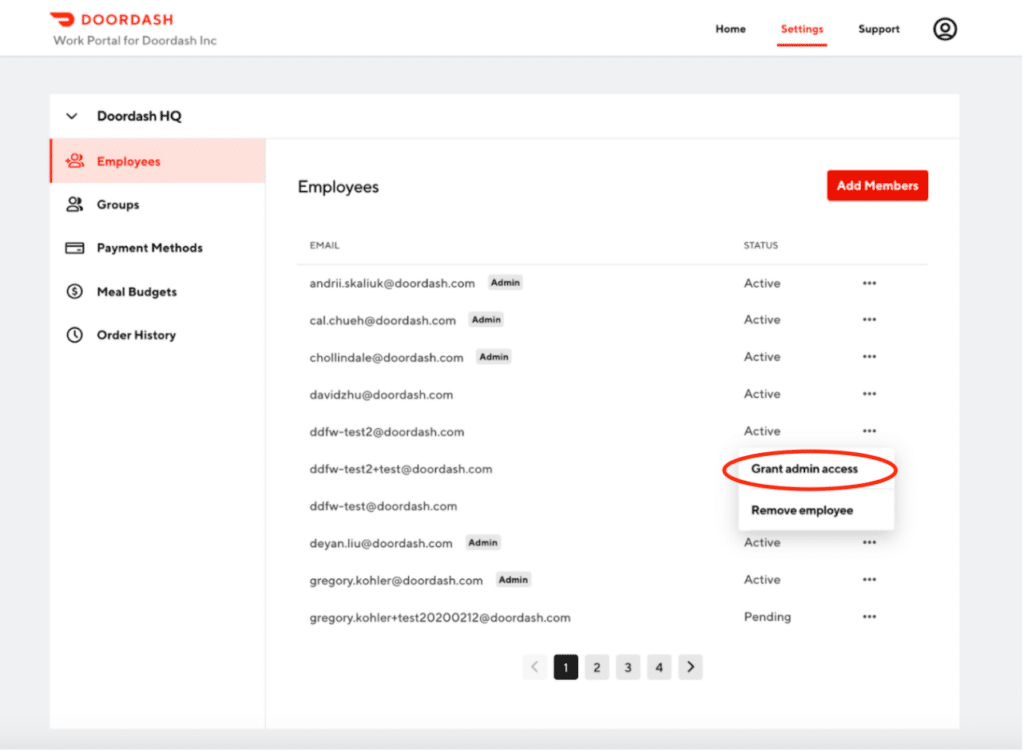 Admin panel for restaurant owners or managers for managing the listing, analytics, order tracking, etc.
A portal to manage menus, orders, promotions, etc.
Access to customer feedback
14. Reporting and analytics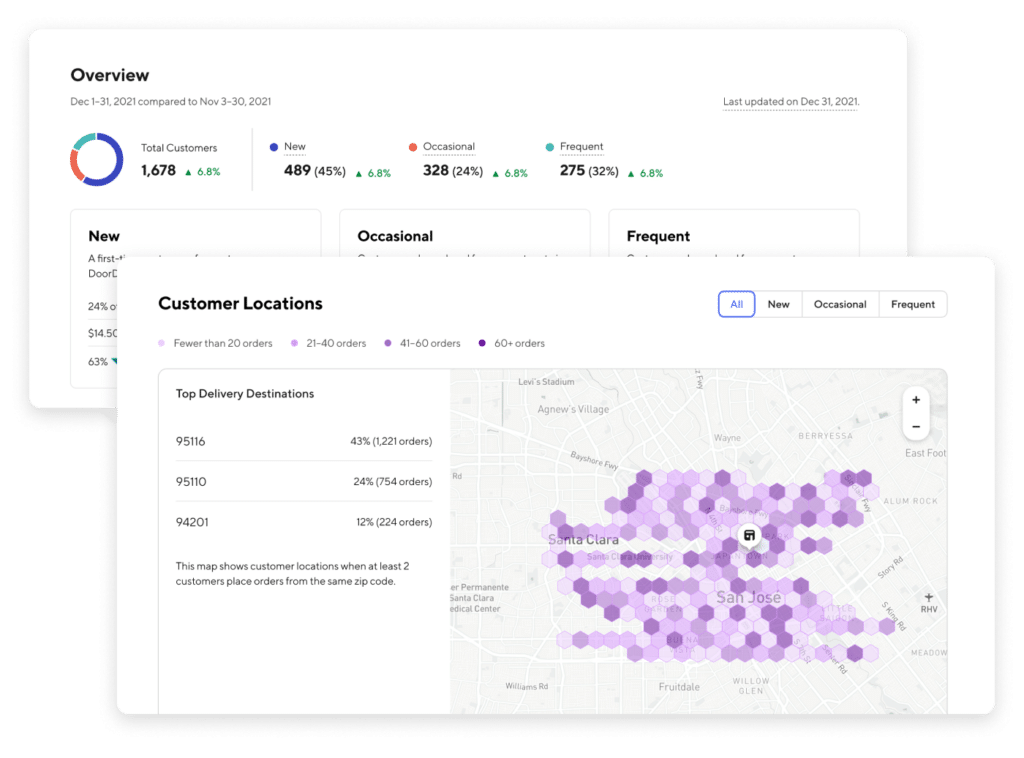 Performance metrics for restaurants and couriers
Data analytics to help restaurants keep track of order trends, user behavior, and revenue
15. Customer support and help center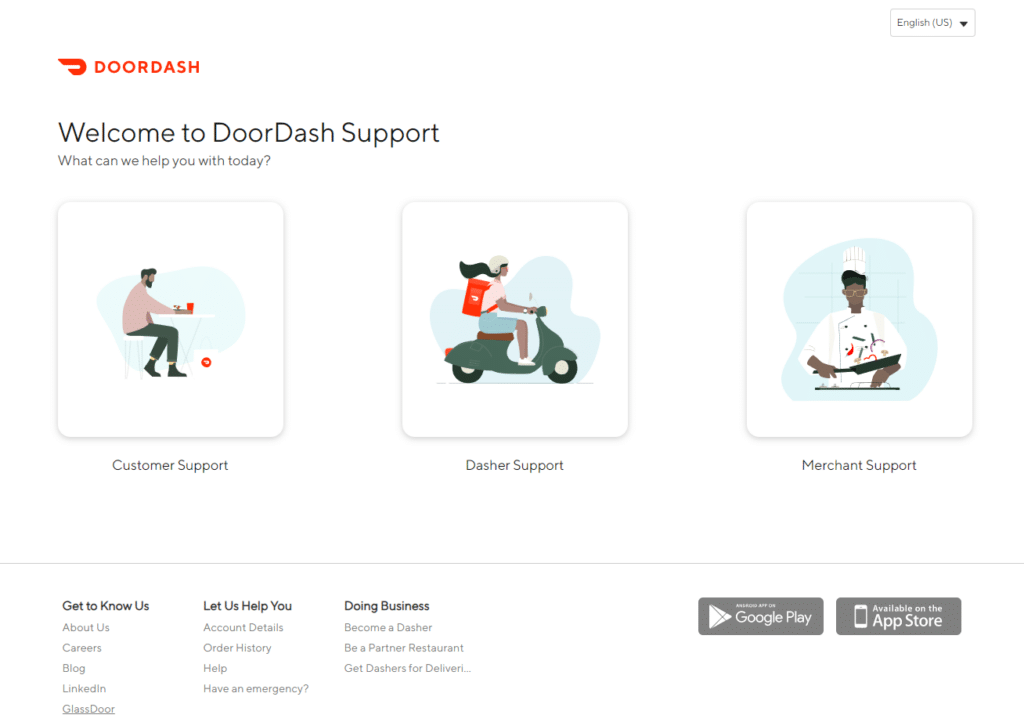 Responsive customer support team for assistance with payment problems, order issues, and other app-related issues
Help center with FAQs and troubleshooting guides
This is a non-exhaustive list, and there are obviously other features and functionalities you can add to your DoorDash-like app. However, these listed above are important building blocks of any successful food delivery app. With these, you'll have a solid foundation before you add other features to meet the unique needs of your business, restaurant partners, or target customers.
See our post on How to Measure the Success of an MVP.
Intuitive User Experience and Interface Design
Building a successful food delivery app like DoorDash isn't only about adding features and functionalities, but we also need to ensure an intuitive, user-friendly, and engaging experience for customers, restaurant admins, and couriers.
Here are some important factors to consider:
Sleek and intuitive design: Consider the fact that the app will be used by a broad demographic. It's critical to design a sleek and easy-to-navigate interface that is accessible to every user.
Seamless ordering process: For customers, the app should feature a seamless and effortless order process. Include as little number of steps as possible, and provide guides through the whole ordering process, from selecting dishes to confirming the completed order.
User-friendly payments: It's critical to ensure a smooth and secure payment process to reduce potential friction at checkout. Provide multiple payment options to make it easy for customers to pay their orders.
Search filtering: Allow customers to search restaurants by location, cuisine type, restaurant name, and other criteria. Allow customers to save their favorite restaurants for easy reordering
Building a Food Delivery App like DoorDash: Development Phases
The process of building a food delivery app like DoorDash can be broken down into several different phases as follows:
Phase 1: Project Planning and Strategy
The first and crucial phase is to plan and strategize for the app and the business behind it.
Some important steps in this phase are:
Market research: Identify and understand your target audience. Analyze their behaviors/preferences and analyze the competition to identify gaps/opportunities.
Decide on a business model: Decide on how your business is going to make money. Define your pricing structure and revenue streams. Develop partnership strategies with both restaurants and delivery couriers.
Scope definition: Decide the features and functionalities your app will offer. Limit your scope to prevent a prolonged development phase. Determine the essential features that will be included in the MVP (Minimum Viable Product), and prioritize which features you'll add later.
Budget and timeline: Establish a realistic budget and project timeline. Consider the testing and launch phases beyond the development process.
Phase 2: UI and UX Design
The next phase of the app development process is to design the app's UI (User Interface), which is the visual design of the app, and UX (User Experience), which is the interface of the app and the way that users interact with the app.
Here are some key considerations:
User-centric design: Focus on creating an intuitive and user-friendly interface. The UI/UX design should meet your user's preferences both in terms of visual aesthetics and navigation and should align with your brand's identity.
Wireframing and prototyping: Develop wireframes and prototypes to test the app's layout and features. Involve users to collect feedback regarding interaction flows and ease of use of the app.
Responsive design: Adopt a mobile-first approach and make sure the app is responsive and fully functional on different devices with different screen sizes.
UI style guide: UI should be cohesive and consistent when it comes to fonts, color schemes, and icons to ensure a consistent user experience. Establish comprehensive UI style guidelines to ensure this.
Phase 3: Front-End Development
This phase is where the app's UI and UX are actually developed including developing the different screens, buttons, menus, and other visual elements of the app.
Some key steps in this phase:
Choosing a front-end framework: Choose an appropriate front-end framework (i.e., Flutter, React Native, etc.) for the development process. Consider cross-platform compatibility when choosing your framework.
UI design implementation: Converting design concepts and mockups into functional menus and UIs. The focus is to ensure responsiveness and optimal user interactions.
Real-time features: Developing features like real-time tracking, automated notifications, live chat, and others to ensure a dynamic user experience.
Phase 4: Back-End Development
The back-end development phase's focus is developing the app's server-side logic and codes that power the app's features.
Some key considerations:
Server architecture: Establish a scalable and secure server architecture that can securely store user/restaurants data, orders, real-time interactions, and other relevant data.
Database design: Choose a suitable database tech stack (SQL, NoSQL, etc.) and design a database system to ensure efficient, secure data storage and easty retrieval.
User authentication: Establishing a robust user authentication paired with adequate security measures to protect user data and sensitive information (i.e., credit card information.)
API development: Creating APIs as needed to connect the front-end with the back-end of the app to enable seamless and secure data exchange.
Phase 5: Integrating Third-Party Services
Rather than developing every feature and functionality from scratch, integrating with third-party services such as Google Maps and payment gateways can be more efficient and cost-effective.
Some common third-party integrations:
Payment gateways: popular options including PayPal and Stripe, to ensure seamless and secure transactions.
Geolocation services: Google Maps, Apple Maps, etc., critical for a food delivery app to enable accurate tracking of user and courier's locations.
Messaging and notifications: You can integrate various services to facilitate chat and push notifications to enable communication between users.
Analytics tools: You can embed Google Analytics, Mixpanel, Amplitude, and other analytics tools for monitoring user behavior and overall app performance.
Phase 6: Testing and Quality Assurance
Once you've reached this phase, the app has successfully been developed, but our job doesn't end here just yet.
This phase is about testing the app thoroughly to ensure it's working as intended and is bug-free.
Some key aspects to test:
Functional testing: Conduct thorough testing for all features to ensure all of them are working as intended and meet user satisfaction requirements.
Usability testing: Invite users to test the app and gather feedback. Adjust and improve the app based on real user experiences.
Security testing: Conduct comprehensive security audits and penetration tests to detect weaknesses and vulnerabilities.
Performance testing: Test the app's performance under various conditions, especially the peak usage scenario.
Phase 7: Deployment and Launch
Now that the app has been tested, it is now ready to be deployed to the app store(s). Consider these steps:
Beta testing: Beta testing by releasing the finalized app to a limited number of user can be useful to gather real user feedback and uncover any remaining issues.
App Store deployment: Once all bugs and issues have been fixed, prepare and submit the app to the Apple App Store, Google Play Store, and other app stores as needed. Make sure to closely follow their respective submission guidelines.
Marketing and promotion: Plan and execute a marketing strategy to attract users for your food delivery app and build buzz.
Post-launch monitoring: Once the app has been made available for users to download, continue to monitor the app's performance and gather user feedback. Improve your app via iterative updates based on this feedback.
Building a DoorDash-Like App: Cost Estimation
So, how much does it actually cost to build a food delivery app? Let's delve into the factors that affect the development cost so we can provide an approximate cost breakdown.
App complexity: The more features and the more complex the app's functionalities are, the more time and resources will be required to develop the app, increasing the development price.
Design complexity: Apps with sophisticated and complex UI/UX design can be more expensive, especially when they include custom animations, illustrations, or intricate UX elements
Development team: The size and expertise of the development team (project managers, designers, developers) and the geographical location of this development team can play a significant role.
App maintenance and updates: The cost of ensuring ongoing maintenance and updates post-launch can accumulate in the long term and may affect the overall development cost.
After we've considered these factors, the following is an approximate cost breakdown for developing a typical food delivery app like DoorDash:
Design costs: $2,000-$5,000 for UI and UX design, custom designs (icons, illustrations, graphics, animations), prototyping/wireframing, etc.
Development costs: $20,000-$50,000, including front-end/back-end development, database setup and integration, API development, and developing real-time tracking features.
Testing and quality assurance costs: $5,000-$10,000 for functional testing, usability testing, security testing, performance testing, etc.
Maintenance and update costs: $5,000-$10,000 per year for ongoing server maintenance, troubleshooting, bug fixes, adding new features/improvements via updates, etc.

Our Expertise in Building Food Delivery Apps
A2 Design is an experienced full-cycle web and mobile application development company with clients from all around the world. Our team has over a decade of experience in developing custom applications across various industries, including food delivery businesses like DoorDash.
One of the food delivery apps that A2 Design has built is the City Lunch Club. It is a subscription-based food delivery platform. It is a technically complex web application that incorporates different user groups, recurring payments, and intelligent clustering of customers per restaurant based on address.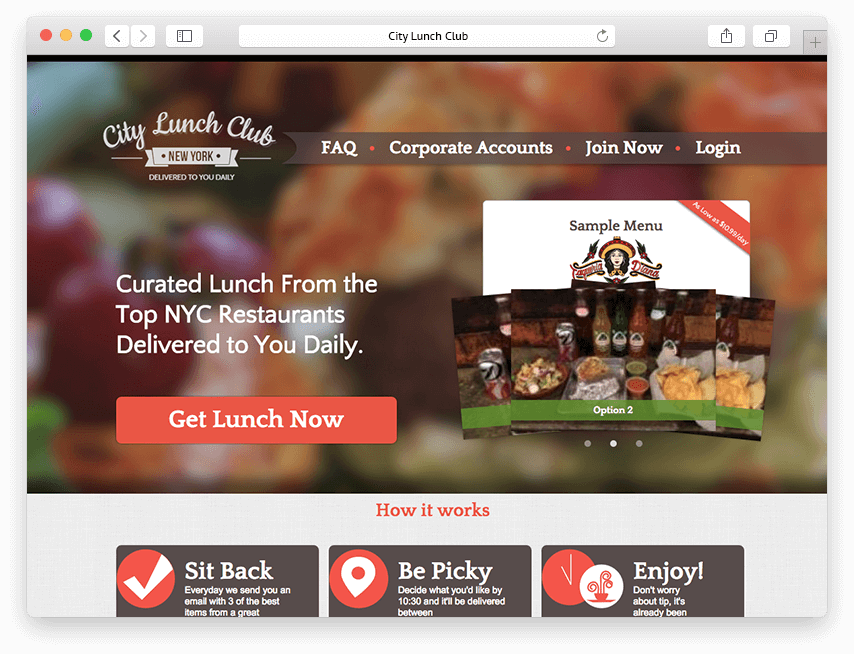 A2 Design has successfully delivered tailored solutions for previous clients in the food delivery business and offers an array of advantages:
Experience: over 10 years of experience in developing web and mobile applications, including food delivery websites and mobile apps.

Team of experts: Our team of experienced developers is proficient in the latest technologies and best practices for developing food delivery apps.

Custom and scalable solutions: We design and develop custom food delivery apps tailored to your specific needs and business goals. Our solutions are scalable so that your app can grow with your business.

Ongoing support: We offer ongoing support for your food delivery app to ensure its smooth operation and continuous improvement. Our team will help you with any problems that you may encounter and keep your platform up-to-date with the latest features and security patches.

Cost-effectiveness: We offer competitive pricing and flexible payment terms. We can help you to get the most out of your budget.
If you are seeking a full-cycle web and mobile application development company with experience in creating food delivery apps like DoorDash, A2 Design is the ideal partner for you.
Our comprehensive services encompass everything from planning and design to development and deployment. We are dedicated to helping you establish a thriving food delivery business that aligns with your specific requirements.
Contact us today to learn more about how we can help you build your own DoorDash-like app right away.
Updated 29th November 2023