How to Build a Website Like Glassdoor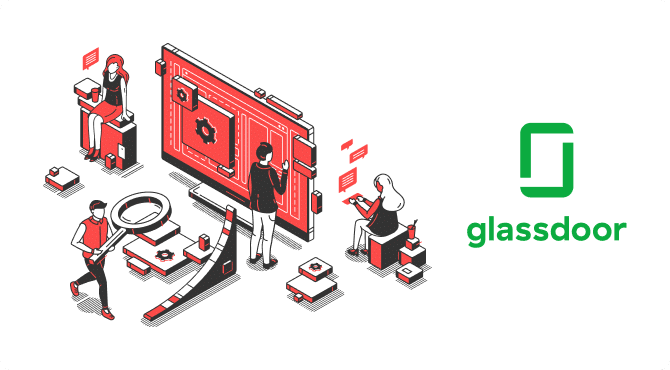 In today's social media age, job search platforms have revolutionized how job seekers and employers find each other.
Among these innovative websites and platforms, Glassdoor and Indeed are considered the leading job portal websites, allowing employers to list any job openings and job seekers to easily search for jobs, get salary information, check out company reviews, and apply for job openings without leaving the website.
With the booming job search and recruitment industry, there has never been a better time to build your own Glassdoor-like website and dive into the lucrative opportunity.
In this comprehensive guide on how to develop a job portal website similar to Glassdoor, we will equip you with the necessary knowledge so you can embark on your journey of building a successful job search and recruitment website.
We will cover the following topics:
Planning your business strategy and creating a business model
Potential challenges in building a Glassdoor-like website and how to tackle the
Essential features of a job portal and recruitment website
Tips and best practices on how to build a successful job search website and business
And more.
Let's get started on transforming your entrepreneurial vision into a reality, and unlock the secrets to creating a successful job portal website!
Starting a Website like Glassdoor: Feasibility Study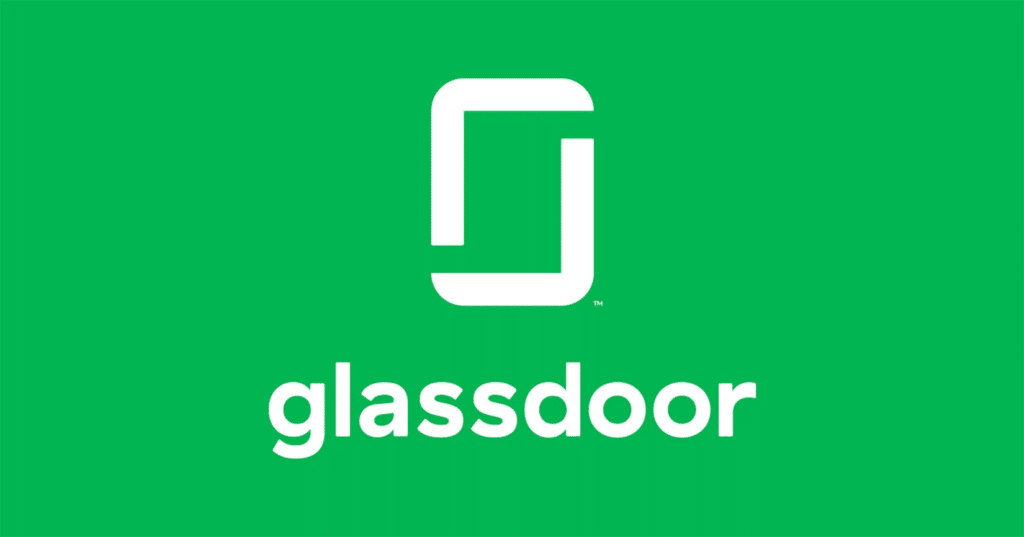 Is it feasible to start a job portal website like Glassdoor or Indeed today?
The answer to this question would depend on a number of factors. Yet, given the significant demand for job search platforms and the potential for revenue generation, starting a job portal website in 2023 can be highly feasible.
Below are some key statistics to consider:
Growing job market
The job portal and recruitment market is massive and still growing. According to BusinessWire, the global job portal market was valued at $39.04 billion in 2021 and is expected to grow to $73.11 billion by 2027.
More and more people are looking for jobs online, and at the same time, there is a growing demand for talent from many businesses. In May 2023, there were approximately 9.8 million job openings in the US alone.
Adoption of digital platforms in recruitment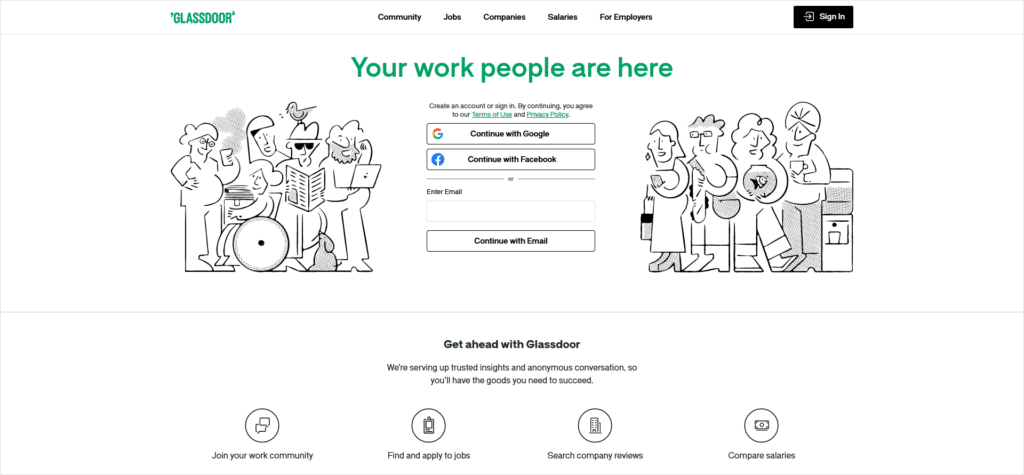 It's no secret that many industries and field have accelerated their digital transformation due to the global COVID-19 pandemic, and the recruitment process is also affected.
The job-seeking and recruitment processes are rapidly shifting to digital platforms. It's becoming the norm for people to use online job boards as the primary method of finding job opportunities, and at the same time, an increasing number of employers have also adopted digital technologies like video interviews and Ai in their recruitment process.
Positive perception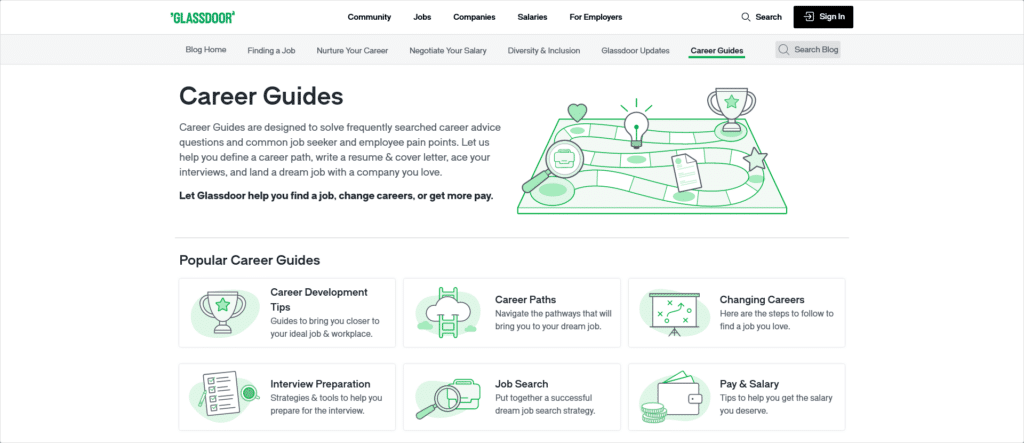 Both employers and job seekers now view job portals as effective tools.
Around 70% of employers believe that job boards are their most valuable source for quality hires. At the same time, job seekers now spend a significant amount of time on job search platforms with high user engagement per visit.
Revenue potential
Job portal platforms offer a number of monetization opportunities, such as sponsored job advertisements, paid job listings, and premium employer accounts with extra perks. As a reference, Glassdoor's peak revenue was $320.0M in 2022.
Niche Targeting
There's also the opportunity to create specialized job portal platforms that cater to specific regions, industries, or fields.
Niche job portals can provide more focused services to a dedicated user base, which may be less competitive than a generalized platform.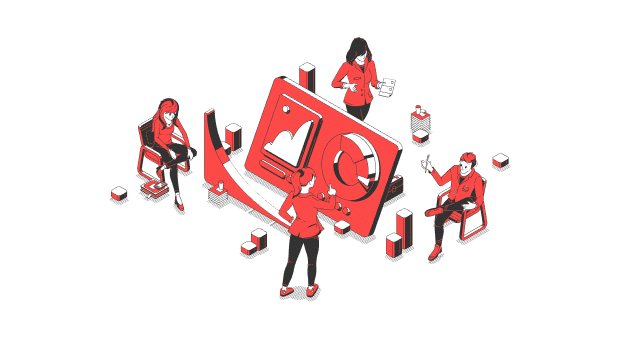 Based on the facts stated above, we can see that the job portal industry offers lucrative opportunities for entrepreneurs looking to build websites like Glassdoor. Yet, to achieve success, we'll still need to plan a comprehensive strategy, adequate market research, and a focus on user experience.
As the job market continues to grow and evolve, starting a job portal website is not only feasible but has the potential to thrive.
Building a Job Portal Website: Planning the Right Strategy
In both website development and starting a business, embarking on a project without a well-crafted strategy is akin to setting sail without knowing your destination.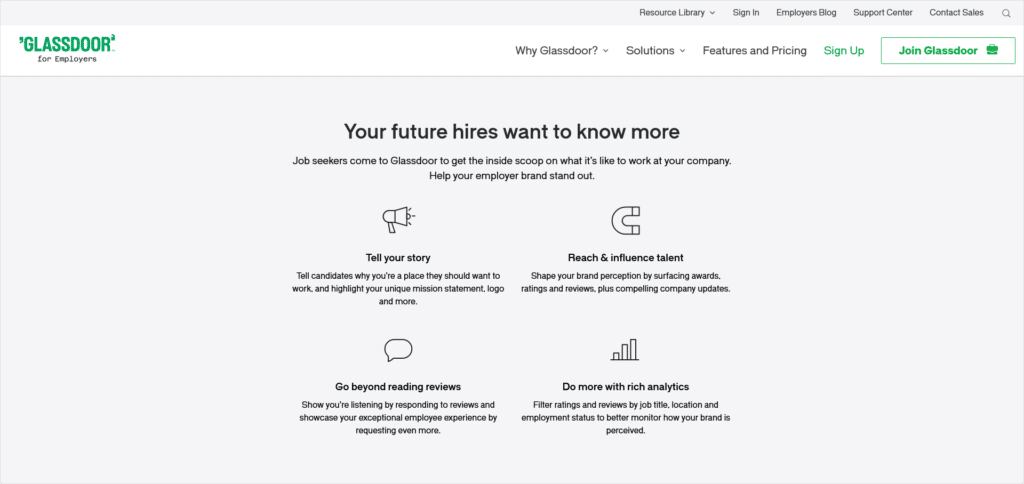 It's important to start this project of building a job portal website with a thoughtful and thorough planning process, which will provide the following benefits:
Proper planning ensures that your job portal website aligns with the vision and goals/objectives you have for the business
Having a clear roadmap helps you ensure a seamless development process and avoid costly mistakes during the development.
Comprehensive planning maximizes the efficiency of your resources, allowing you to save time and money.
Keeping your team focused and on track with a clear development schedule and roadmap.
A thorough plan functions as a risk management tool, anticipating challenges along the way and pre-planning solutions to potential problems.
Below, we will discuss the key steps involved in planning for a successful Glassdoor-like website:
Step 1: Understanding your target audience
To make sure your job portal website truly resonates with its users, it's critical to know and understand who your target audience is.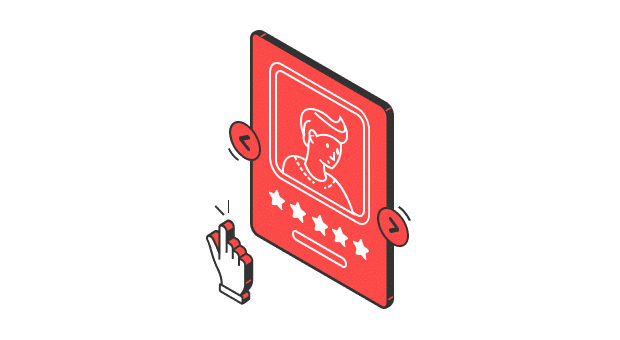 For a job portal website, the target audience can be broadly categorized into two main groups: job seekers and employers, each with its distinct requirements:
Job seekers
Job seekers seek a platform that makes their job search journey easy and seamless. It's critical to delve deep into the specific needs of job seekers, challenges, pain points, and what motivates them in their employment search.
You can aim to build a generic job search platform that targets all kinds of job seekers, or you can narrow down your target market to a specific niche. For example:
Professionals with specific experience, education, or skills (i.e., programmers, graphic designers)
People in a certain geographic location. In this case, you can also target employers in the same geographic location.
Those looking for a job in a particular industry.
Employers
Employers typically seek job portal platforms that have a huge pool of potential hires and, at the same time, can streamline their recruitment process. Similar to job seekers, you can try to appeal to all kinds of employers across different industries or target a specific niche.
Once you've decided on a target audience, the next step is to understand the specific needs of this target audience (both job seekers and employers.) To do so, you can:
Research existing job portal websites like Glassdoor and Indeed and try to gain insights into their user base.
Conduct surveys, focus group discussions, and interviews with potential users.
Use analytics tools to gain insights into your competitors' traffic. Analyze the demographics of both job seekers and employers, like location, gender, age, educational background, and industry preferences.
Step 2: Market research and competitive analysis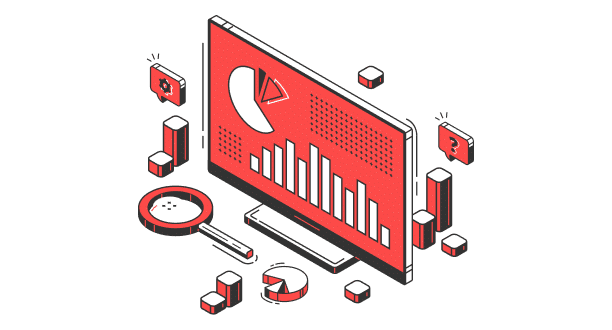 Once you've identified your target audience, conduct market research and competitive analysis to identify the strengths and weaknesses of your competitors so you can identify opportunities.
Consider:
The features and functionality of other job portal websites targeting the similar target audience
Their pricing strategies
How they market their website
Leverage the market research data to identify gaps and opportunities in the market and make informed decisions during development.
Step 3: Defining your unique selling point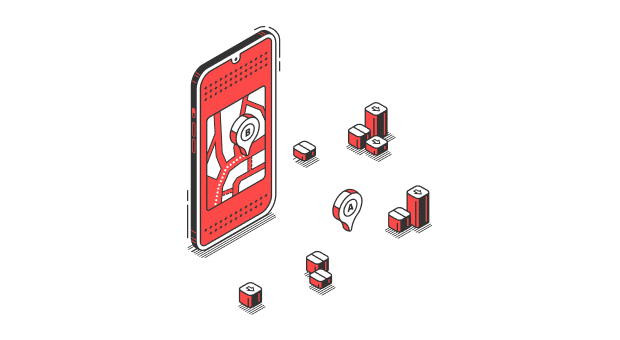 It's important to define your website's unique selling points (USPs) that make it stand out among other websites like Glassdoor. Remember that you are trying to attract both employers and job seekers, and you may need to develop different USPs for both types of audiences.
Some examples of USPs you can consider include:
Specialized niche: you may deduce to cater to only a specific industry or region.
Employer branding: you can offer more in-depth insights into company cultures and employer branding, which may help you attract more employers.
Advanced features: you can offer innovative technologies and features like a seamless candidate tracking system, AI-driven candidate screening, job-matching algorithm, and so on.
When defining your USPs, always refer back to what your target audience is looking for and think about how you can make your platform more appealing to them.
Choosing The Right Monetization Model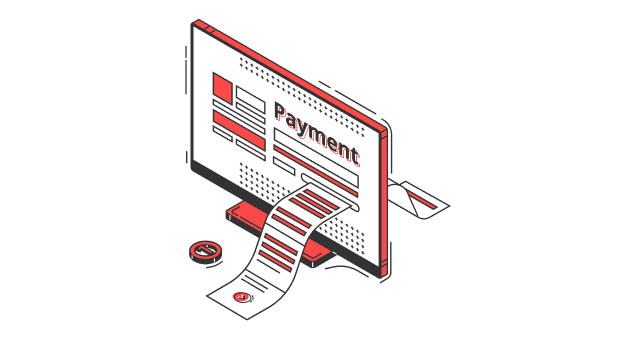 There is a wide range of revenue streams and monetization options a job portal website can adopt to ensure financial sustainability. Here are some potential avenues you can consider:
Job posting fees: the most common monetization model for job portal platforms. Here, you charge the employers a fee when they post job openings on your website.
Premium listing placements: you can offer premium placement options for job listings so employers can get them to attract more candidates.
Employer branding: provide opportunities for employers to showcase their values, company culture, and other perks to attract top talent.
Advertising: job portal websites can generate revenue from advertising, like displaying ads on the website, selling ad space to employers or other parties, and so on.
Premium features: you can offer premium features like access to more job listings, the ability to view anonymous job applications, etc. for a fee (i.e., subscription.)
Data insights: you can sell anonymized data and insights into the industry trends and job market to employers.
You can choose one or more revenue streams according to your target audience's profile, and this is not an exhaustive list. You can choose other monetization options as you see fit.
Developing a Sustainable Pricing Strategy
Another important consideration is to find the right balance in your pricing strategy. You'd want the price high enough to generate sustainable revenue but not so high that it will deter users from your website.
Consider:
Your target audience: offer tiered pricing plans for users based on their needs. What is your users' typical budget? What premium features will your users pay for, and for how much?
Your competitors: research the pricing strategies of competitors so you can make sure your offers are competitive.
Your cost: how much does it cost to operate and maintain your job search website?
Defining User Acquisition and Retention Strategy
How will you acquire and retain your users? Remember that you'll need to consider two different types of users: job seekers and employers.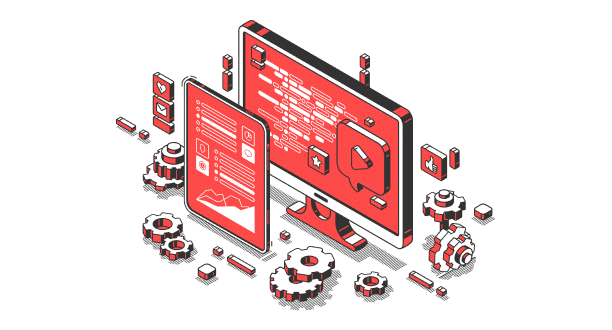 Here are some of the most effective strategies to consider:
SEO and SEM: optimizing your website to rank higher on search results (SEO) and investing in search engine marketing (SEM) ads are two important strategies to ensure your website's visibility and drive traffic to your website.
Content marketing: regularly create and distribute valuable content to attract and engage your audience while at the same time establishing your website's position as the thought leader in your niche.
Other marketing channels: leverage social media, email newsletters, and other marketing channels to acquire and retain users.
Employer outreach: proactively reach out to employers and companies. Showcase the benefits of using your platform for their hiring process, and offer incentives if necessary.
Networking and partnerships: collaborate with industry organizations, professional associations, universities, and others to attract employer partnerships and fresh talents to your platform.
User engagement: to retain job seekers, consider implementing gamification elements (badges, rewards) to keep them engaged and motivated.
Personalization: as you gain more users to your website, leverage data insights to provide personalized experiences to users (both job seekers and employers) according to their specific needs and preferences.
Essential Job Portal Website Features
As you set sail on this ambitious voyage of creating a website like Glassdoor, it's crucial to remember that your website does not need to be perfect right away. It's better to
The idea of Minimum Viable Product (MVP) is a strategic approach to build a bare-minimum version of your website with only the essential features, allowing you to launch quickly. This allows you to outrun your competitors, and you can still improve the website continuously as you gather valuable feedback from users.
With that being said, here are the most common features that all job search websites should have:
Job search and filtering
This is the most essential feature of any job portal website.
It's critical to provide a robust job search feature that allows users to easily find relevant job listings based on keywords, job titles, locations, company names, and other criteria.
Many job seekers will judge the overall quality of a job portal website like Glassdoor from the robustness of the search function and the filtering options. Try to offer advanced filtering options like job type (full-time, part-time, remote), salary range, industry, experience requirement, and more.
Make sure the search and filtering functionality is seamless and easy to use, even by non-tech-savvy job seekers.
Company profiles and reviews
Companies should be able to easily create dedicated company profiles that showcase their company information, including company size, location, industry, and other relevant information.
To add transparency, employees and job seekers should be able to leave reviews and ratings about their past experiences working with each company. This feature will only help users make informed decisions about specific potential employers.
User registration and authentication
Enable both employers and job seekers to create user accounts on the website. The registration process should be seamless, and consider enabling registration through social media profiles for added convenience.
Implement secure authentication methods such as email verification, 2-factor authentication, social media login, and other security features to ensure the credibility of user-profiles and data privacy.
Salary information
Providing salary information for a variety of positions in different companies can help job seekers who are trying to negotiate their salaries. Salary information is often sought after by many job seekers, so this feature can significantly help to drive traffic to the website.
Make it easy and intuitive for employers to list the salary, benefits, and perks they provide to employees in job listings.
Job Alerts and Notifications
Implement a job alert functionality where users (job seekers) are notified when new jobs that match their preferences are posted. Consider sending both email and in-app notifications to keep users informed in case your email is not opened or went straight to the spam folder.
Job Application and Resume Submission
Users should be able to apply for job openings directly through the website or app by submitting their resumes.
Provide options for employers to view and manage job applications so they can review candidate profiles straight from their dashboard without leaving your website/platform.
Candidate Profile and Resume Management
Allow users to store their resumes and cover letters on your websites, so they can easily apply for these job openings. Job seekers should be able to create and manage their candidate profiles and easily add skills or highlight relevant experiences.
Offer privacy settings so users can control what information is available to employers.
User-Friendly Design
Ensure the website is mobile-responsive so it can automatically adapt to different devices (desktops, tablets, mobile phones, etc.)
Make sure the website is properly optimized and has an intuitive user interface (menu design, layout, structure, etc.,) ensuring a seamless user experience (UX) across all devices.
Remember that the goal of your Glassdoor-like website is to facilitate connection between job seekers and potential employers. When designing your MVP features, always refer back to this goal and aim for a seamless job application process and provide as much accurate information as possible on companies and job openings.
As your website grows, you can add more features and enhancements based on market demands, shifting trends, and user feedback.
Turning Your Dream Into Reality: Your Options
Now that you've understood the necessary steps of constructing a job portal website like Glassdoor, a crucial decision awaits you: how will you turn your idea into reality?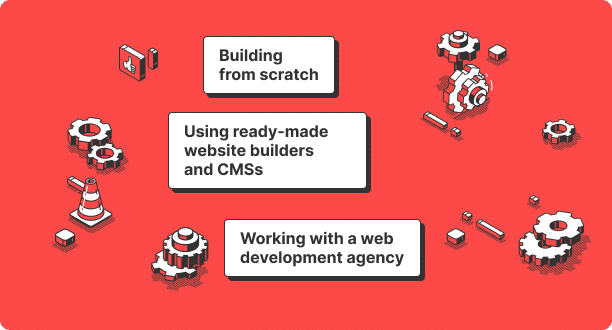 To actually build your website, you basically have three main options:
Building from scratch: if you have the resources and/or time, building your website on your own gives you the most freedom and allows you to tailor every element of your website. However, it has the longest time-to-market and may require substantial resources investment in terms of time, budget, and expertise.
Using ready-made website builders and CMSs: another viable option is to use website builder platforms like Wix, Weebly, Squarespace, or CMS (Content Management System) solutions like WordPress, along with other ready-made solutions to build your website. This option offers affordability and accessibility, but you'll have limited options in terms of customizing your website,
Working with a web development agency: consider partnering with a full-cycle web development company like A2 Design, which can save you time and money by providing you access to experienced developers who can build your website efficiently and quickly.
A2 Design has over ten years of experience with a team of experienced website developers who specialize in building complex websites, including job recruitment platforms like GlassDoor. As a full-cycle development company, A2 Design can create a tailor-made solution for your website that is also scalable and future-proof.
Wrapping Up
Building a job portal website like Glassdoor or Indeed can be a lucrative business opportunity, but you'll still need careful planning, strategic thinking, and a deep understanding of your target audience's needs.
While building your job portal website can be challenging and time-consuming, you can increase your chances of success by following the steps outlined in this article.
Updated 15th September 2023