How to Build a Website like Turo: Tips, Features, Costs
The sharing economy—made possible by digital platforms—has revolutionized many different aspects of our lives, including how we rent and drive a car.
In a sharing economy, people share access to products and services instead of having to pay to own them. Turo is a sharing economy platform that connects car owners with renters: owners can list their cars on Turo, and renters can book the available cards directly from the owners. Think of it like Airbnb for car rental instead of lodging.
Founded in 20019, Turo has grown to be a very popular platform in recent years with over 14 million users. People are actively looking for cost-effective alternatives to owning a car, and Turo provides more affordable access to vehicles without the upfront investment and long-term commitment.
Not only that, but there's also the growing awareness of the negative environmental impact of owning a car, while Turo offers a more sustainable way to access transportation.
In short, peer-to-peer car rental is a booming industry, and we can expect it to continue growing in the future. If you are looking to build a website like Turo, there simply hasn't been a better time.
This article's primary goal is to guide and educate you on how to build a Turo-like website. We'll cover all aspects of the process, from the essential features of a car rental platform to the technology stack required for the development to an estimated cost breakdown. Whether you are an aspiring entrepreneur looking to explore the exciting P2P car rental market or a developer eager to explore opportunities in this sharing economy, you'll find valuable information in this article.
Without further ado, let's buckle up and start this guide right away.
Understanding the Turo Business Model
Turo, as a peer-to-peer car rental platform, basically acts as a middleman between car owners and renters. Car owners and renters can connect and transact with each other on the platform, and Turo also facilitates secure and reliable ways to process payments and keep track of the cars' location.
Turo's business model is basically a commission-based model, charging a dynamically calculated fee for each booking. This fee typically ranges between 10% and 35% of the rental costs, or 25% on average.
On top of commissions on bookings, Turo also offers a variety of value-added services to both renters and car owners, including:
Protection plans: Turo offers a variety of insurance plans to renters, from basic plans to more comprehensive coverage. Turo charges a commission when a renter purchases a protection plan.
Delivery and pickup services: Turo offers delivery and pickup services to renters in some locations and charges a fee for their services.
Advertising: Turo earns revenue from allowing businesses to advertise on its app and website.
Late fees and cancellation fees: Turo charges late fees to renters who fail to return their cars on time and impose cancellation fees on renters who cancel within a certain timeframe.
Damage fees: Turo imposes damage fees on renters who damage the cars during rental.
Interest on security deposits: Turo collects security deposits from car renters and earns interest on these deposits.
As we can see, Turo has a diversified business model, allowing it to make money from various sources to ensure profitability and sustainability. This model also provides opportunities for car owners to earn money by renting their cars, and renters can save money while gaining access to a wide range of rental options.
When building your own Turo-like platform, you can consider adopting a similar business model while being creative with your own approaches.
Planning Your Turo-Like Website
1. Defining Your Niche and Target Audience
The first step in creating a website like Turo is to define a target audience and your niche. Knowing and understanding who this website is for can help you ensure the platform can cater to the needs of this target market.
Some possible niches for a peer-to-peer car rental platform include:
Family car rentals
Car rental for businesses
Electric car rentals
Sports/luxury car rentals
Vintage classics specialist
Your niche will influence your branding, how you should market the business, and how you should design the platform and its UX.
Once you've identified your niche, you need to identify your target market. What kind of car owners and renters are you trying to reach with the Turo-like website? For example, are you targeting families, business travelers, or leisure travelers? Will you be targeting a specific location or geographic region?
Once you've identified your target market, gather as much information about them as possible. Consider the demographics, behaviors, and interests, among other important details.
2. Creating a unique value proposition
Now that you've chosen a niche and defined a target audience to target, the next step is to decide on your platform's unique value proposition (UVP).
A UVP is, simply put, something unique that differentiates your platform from its competitors. For a website like Turo, your UVP could be:
Exclusive car categories or choices
Innovative features not found on similar platforms
Exceptional customer service
Cheaper price
And others. Your UVP (or UVPs) and how well you communicate it through marketing will literally make or break your website's ability to attract users. So, take the time to think about this thoroughly.
3. Market Research and Competitor Analysis
Comprehensive market research and competitor analysis are essential to succeed in creating and running a Turo-like website.
Consider the following:
Market size and trends: Analyze the overall size of the car rental market (online and offline) in your target geographic location. Also, try to understand the latest trends like the popularity of certain car types, whether there's a demand for electric vehicles, etc.
Competitor landscape: Identify your direct (i.e., existing peer-to-peer car rental websites) and indirect (i.e., traditional car rental services) in your area. Choose 3 to 5 top competitors (or more if possible) and analyze their strengths and weaknesses. What have they done successfully in the past and at the moment? Are there any gaps in their offers?
User feedback: Read reviews and feedback from your competitors' users. This can provide you with valuable insights into what your target audience will appreciate, and which aspects are considered negative or frustrating.
Regulations and legalities: Pay attention to the regulations and legal requirements that apply to car rental businesses in your geographic location. Take notes on what you need to stay compliant with all the necessary licenses, legalities, and insurance requirements.
4. Setting Clear Objectives
What do you want to achieve with your Turo-like website and your car rental business in general? If you don't define clear objectives, you risk losing direction.
Here are some important aspects to consider:
Revenue goals: How much income do you aim to generate from your Turo-like platform? Define your revenue targets for the short, medium, and long term.
User acquisition: How many car owners and renters do you want to acquire within a specific timeframe?
Geographical expansion: Outline a strategy and timeline for regional, national, or even international expansion.
User experience goals: Set target for the level of user satisfaction and usability you aim to achieve with the platform. For example, you can measure the number of positive reviews and repeat bookings.
5. Creating a Business Plan
Once you've defined clear goals for your website like Turo and for your business, the next step is to develop a business plan.
Think of your business plan as a roadmap for achieving the goals and objectives you've defined before, and should include the following sections:
Executive summary: A high-level summary of the whole business plan including your mission/vision, target market, the problem you are trying to solve, product/service you offer, competitive advantage, and more. It's typically easier to write this section last after you've finished all the other sections.
Market analysis: Here you can detail your findings from the market research and competitor analysis you've done in the previous step. This section should communicate and explain if and why there is a demand for your peer-to-peer car rental platform.
Business model: Describe your revenue model(s) as you've planned in the first step. List every potential way you plan to make money including commission, transaction fees, subscription plan, and other revenue sources.
Marketing plan: Outline how you plan to market your peer-to-peer car rental business including social media promotion plans, partnership, digital advertising, etc.
Technology and development plan: Specify the technology stack and developmentnt strategy you'll use. (We'll discuss more about this in the next sections.)
Financial projections: Create a comprehensive financial projection and budgeting. Consider startup costs, ongoing operational expenses, revenue projections, break-even analysis, etc.
Legal and compliance: List the licenses/permits, insurance, and legal requirements needed to run your Turo-like website.
Creating a business plan is critical for any business, but it is especially important for a startup, such as your peer-to-peer car rental startup. Having a comprehensive business plan will not only give you a roadmap for executing your strategy, but also identify any potential challenges.
Also, a business plan will be especially useful if you plan to get external investors or secure funding (i.e. bank loan) for starting the Turo-like business.
Technical Side of Things: Building Your Turo-Like Website
Now that we've finished the planning phase, we can move on to actually building the peer-to-peer car rental platform.
Let's begin by discussing the essential features a Turo-like website should have:
1. User registration and profiles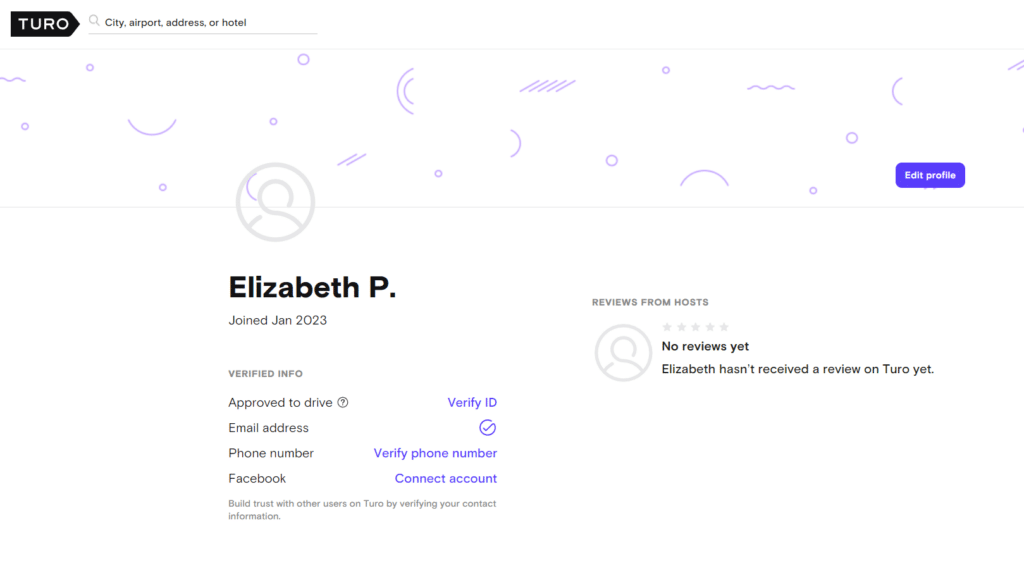 The first and arguably most critical feature for a Turo-like platform is user registration and profile functionality.
This system should allow both car owners and potential renters to sign up for an account and provide their information (name, email address, phone number, driver's license number, etc.)
Here are some key considerations:
Seamless registration: The registration process should be easy, fast, and intuitive. Use as few steps as possible in the registration process, and allow users to register with different options (social media, email address, phone number) to ensure convenience.
User profiles: Allow both car renters and car owners to create detailed profiles, only make personal information that is absolutely required mandatory. For car owners, also provide options to easily list their vehicle and add necessary information. Include identity verification steps to optimize both security and user experience.
Categorization: Categorize user profiles to clearly differentiate between car owners and renters.
2. Listings and search functionality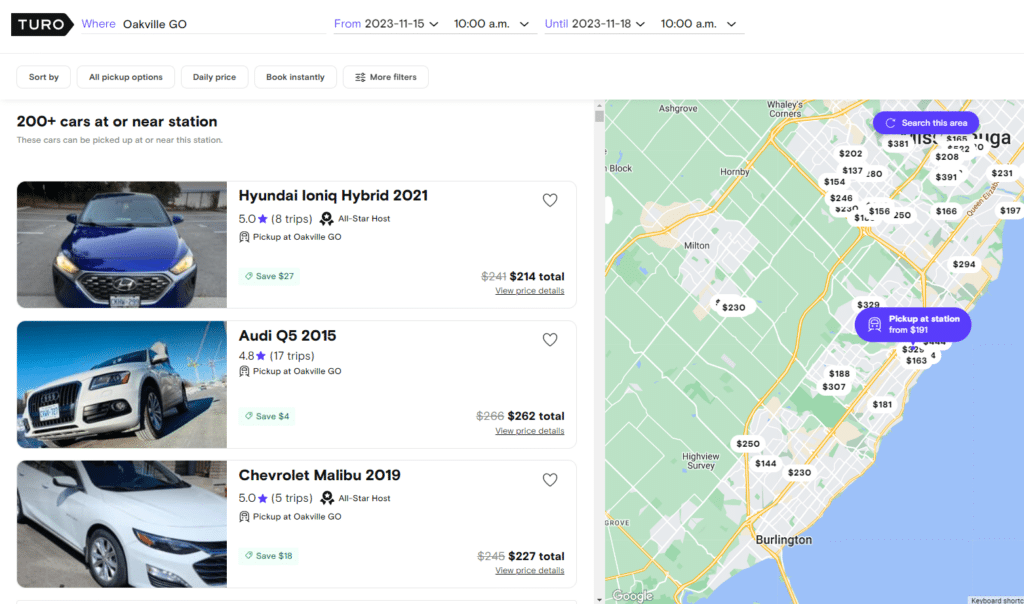 Another important feature of a platform like Turo is car listings with search functionality that allows car owners to list their cars for rent and renters to easily search for cars to rent.
Key considerations:
Intuitive search: The search functionality should be user-friendly and should allow users to filter listings by car type, date, location, price, and other criteria as needed.
Detailed listings: Listings should include detailed information about the listed car, including the car's model, make, year, features, price, and defects (if any). Allow car owners to upload high-quality photos.
Availability calendar: This provides a convenient way for car owners to communicate their availability.
Geo-location service: Integrate location-based search functionality so it's convenient for renters to find nearby vehicles.
3. Booking and reservation system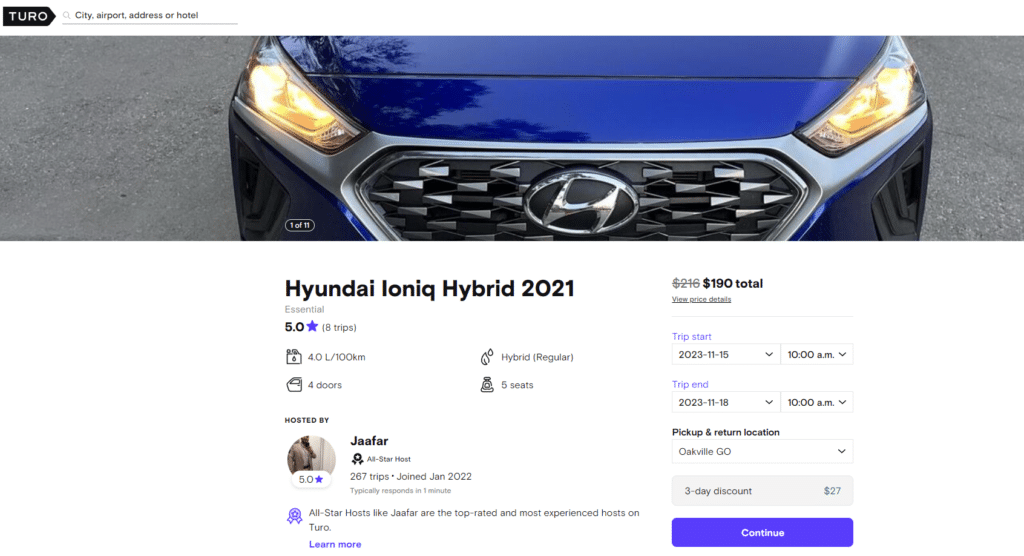 A booking and reservation system is simply critical for a peer-to-peer car rental website. Users should be able to book cars for their rentals in a seamless manner.
Seamless booking: Establish a straightforward booking process so renters can book cars easily and quickly. Provide options for rental durations and offer additional services, but don't compromise user experience.
Owner approval: Provide a system for car owners to review and approve booking requests.
Instant booking: Provide the option for car owners to enable instant booking so cars can be booked without requiring manual owner approval.
4. Payment processing and revenue model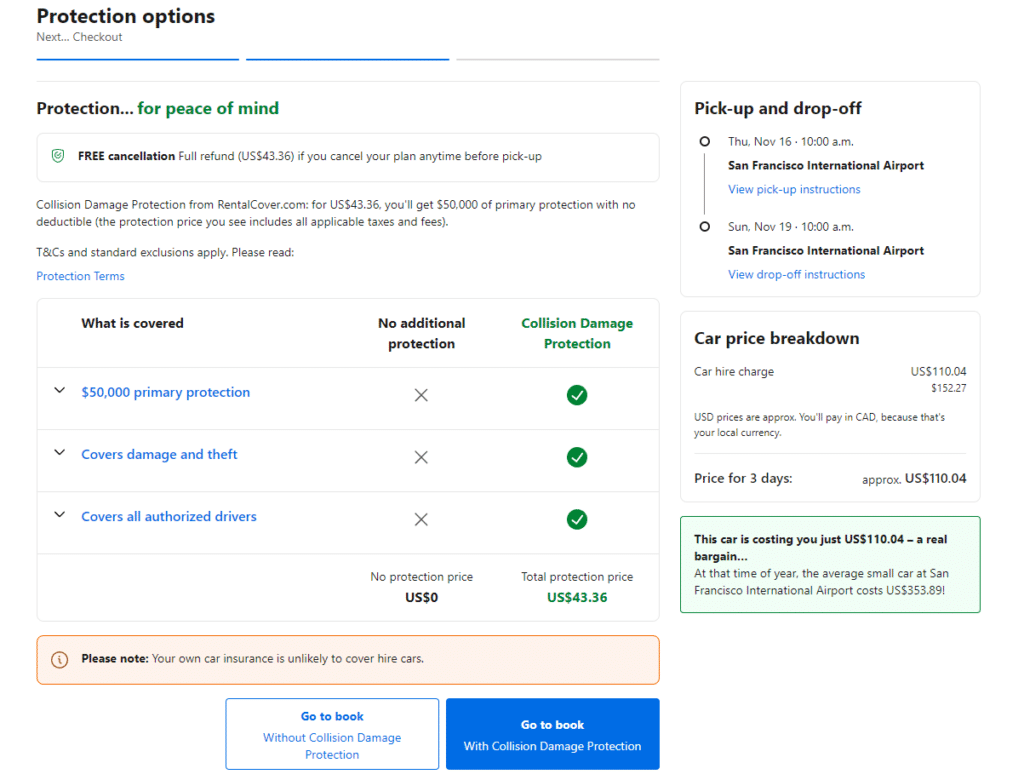 The P2P car rental platform needs a way to securely process payments, as well as other features that allow it to generate income:
Secure payment gateway: Integrate a secure payment gateway (or gateways) to facilitate secure processing of rental payments and other fees. Including popular payment providers like PayPal, Stripe, Venmo, etc.
Transaction fees: Establish a system to charge a commission fee or other transaction fees. The commission is typically paid by the car owner whenever they receive bookings on their cars.
Subscription plans: Optional, but you may want to offer subscription plans (i.e., for car owners to access premium listing features).
5. Insurance and safety measures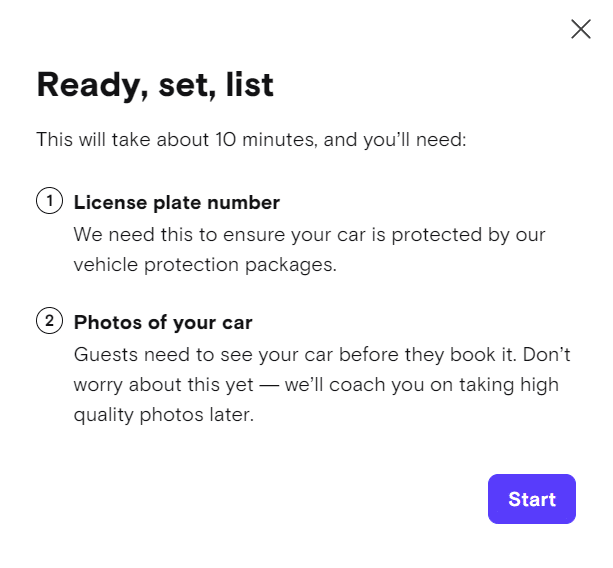 The Turo-like website needs to have adequate measures in place to protect both car owners and renters in the event of an accident or when the car is damaged in any way.
Identity verification: Implement comprehensive identity verification procedures for both renters and car owners. Consider providing vehicle inspection and background check services for added safety.
Comprehensive insurance: Provide insurance options for both renters and car owners to ensure protection in case of damages. Allow users to choose the level of insurance according to their needs.
6. Review and rating system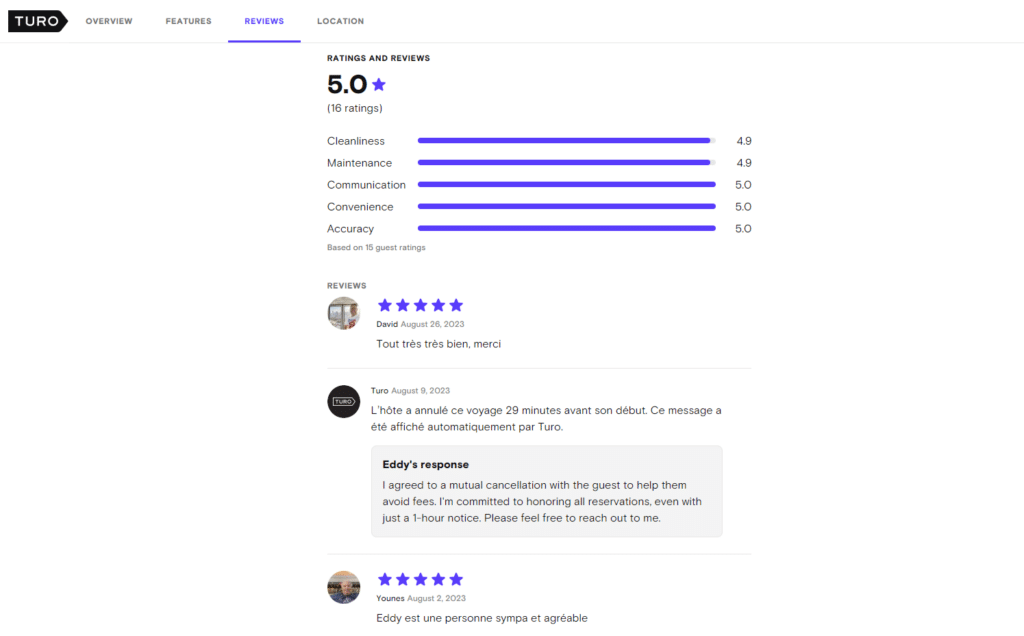 User-generated reviews: Allow both renters and car owners to rate and review other users. This can help improve your platform's user experience by promoting trust and transparency. This will also help users make informed decisions about who to rent from and who to approve rent to.
Dispute resolution: Establish a mechanism to handle disputes between renters and car owners.
Trustworthiness score: Develop a trust score system based on users' history and interaction on the platform.
7. Customer support and communication channels
Multiple communication channels: Provide various communication channel options, including chat, phone, email, etc., for users to contact customer support.
Responsive support: Provide 24/7 customer support if possible, and ensure it is responsive and can promptly address user concerns.
Knowledge base: Offer a FAQ section or a knowledge base to assist users when they need solutions to common issues.
This list of features is non-exhaustive, but they are among the most important building blocks when creating a Turo-like website. You can add more features and functionalities on top of them as you see fit, but these critical features will help you ensure a secure and user-friendly website.
In the next section, we'll delve further into the technology stack required for the development process.
Technology Stacks for Developing Peer-to-Peer Car Rental Platform
Building a P2P car rental platform like Turo is a complex project, and you'll require a solid technology stack to ensure performance reliability, scalability, and ease of use.
We'll divide the required technology stacks into several categories:
1. Backend Tech Stack
The backend—or the "server-side" —, is the part of the platform that is responsible for handling the behind-the-scenes processes like user authentication or payment processing that do not directly interact with users.
Some important backend technologies to consider when building a platform like Turo:
Cloud computing platforms: In modern web development, we can leverage cloud computing platforms like AWS (Amazon Web services,) Google Cloud Platform (GCP), or Microsoft Azure to act as the platform's server.
Programming languages: You'll want to use languages like PHP, and PHP frameworks, e.g. Laravel, Python, Node.js, or Ruby on Rails that offer speed and flexibility for backend development.
Database: Use robust DBMS (database management system) like PostgreSQL, MySQL, or MongoDB. A DBMS will be important for securely storing user data, vehicle listing data, and transaction information.
APIs: You can integrate APIs to add functionalities such as geolocation services, payment processing, and to facilitate communication between the backend and frontend, rather than having to build these functionalities from scratch.
2. Frontend Tech Stack
Frontend, on the other hand, refers to a part of the platform that directly interacts with users, responsible for user interface and overall user experience.
The following are some of the most popular front end technologies for developing a Turo-like platform:
Web development: HTML, CSS, and JavaScript are the most common web development technologies.
Frontend frameworks: React, Angular, or Vue.js. Frontend frameworks help you create interactive and responsive user interfaces.
CSS preprocessors: A CSS preprocessor can help you streamline and enhance the process of writing and managing CSS code. Popular CSS preprocessors include LESS (Leaner Style Sheets), Sass (Syntactically Awesome Style Sheets), and Stylus.
JavaScript libraries: A collection of pre-written Javascript codes that can make adding functionalities to your website easier. Some of the most popular JavaScript libraries for frontend development are jQuery, Moment.js, and Bootstrap.
3. Mobile App Integration
With the majority of your users (both car owners and renters) are now using mobile devices for their online activities, including renting cars, consider offering mobile apps for at least iOS and Android devices.
It's critical to make sure that your mobile apps include all the features available on your website for a consistent experience. Here are some options to aid your mobile app development:
Native development: You can build native mobile apps with Swift (for iOS) and Java/Kotlin (for Android.)
Cross-platform development: You can leverage frameworks like React Native or Flutter to facilitate cross-platform development for both iOS and Android.
4. Data Security and Privacy
User privacy and data security are very important for any peer-to-peer car rental website, since your platform will naturally be handling sensitive car owners' and renters' data.
Consider the following tech stacks:
Data encryption: SSL/TLS protocols, PGP (Pretty Good Piracy) encryption programs like GnuPG, etc.
User authentication: OAuth 2.0 (the open standard for authorization, SAML (Security Assertion Markup Language), etc.
Regular security audits: Leverage technologies like Nessus (vulnerability scanner), Nmap (network discovery/security auditing), and Burp Suite (web application security testing tool) to conduct regular security audits on your Turo-like platform.
Privacy policies: Use platforms like Lubenda, TermsFeed, and PrivacyPolicies.com to help you easily create and manage privacy policies, cookie policies, and terms of service.
Cost Estimation and Financial Projection for Building a Turo-Like Website
Here is a breakdown of the estimated cost of building a website like Turo:
1. Initial Investment
The upfront investment needed to build a platform like Turo will vary depending on the size and complexity of the website, your location, etc. However, here are some common expensed:
Development costs: $30,000 – $100,000 or more. The development cost will depend on the features and functionality you'd like to add on the website. The experience level and reputation of the development team will also determine development costs.
Hosting and domain: $200 – $500 per year. The cost of hosting your website and registering a domain name is relatively low.
Legal and compliance: $500 – $2,000. Not always, but there may be some legal and compliance costs associated with launching and running a peer-to-peer car rental platform.
2. Ongoing Operational Costs
Maintenance and updates: $1,000 – $5,000 per year. It's critical to regularly maintain and update the P2P car rental platform to ensure it stays relevant with the trends and secure.
Marketing and promotion: $500 – $5,000 per month. You'll need ongoing marketing and promotion efforts to attract more users. The actual marketing cost will vary depending on the size and budget of your business, as well as your objectives.
Hosting and server costs: $200 – $500 per month. Ongoing hosting and server costs are typically affordable, but will increase as your website grows and attracts more users.
3. Revenue Projections
Commission on bookings: As discussed, commission on each booking will typically be the main revenue source for a car rental platform. The commission rate typically ranges from 15% – 30%
Value-added services: You can offer value added services such as roadside assistance, insurance, delivery/pickup services, etc. These additional services can generate additional $10 – $50 per booking on average.
4. Return on Investment (ROI)
The ROI for a Turo-like website will vary depending on the initial investment and the revenue generated by the website. However, it is possible to generate a 20-30% ROI on your Peer-to-Peer car rental platform like Turo.
Our Expertise in Building Peer-to-Peer Car Rental Platforms
A2 Design is an experienced full-cycle web and mobile application development company with clients from all around the world. Our team has over a decade of experience in developing custom applications across various industries, including peer-to-peer car rental businesses like Turo.
A2 Design has successfully delivered tailored solutions for previous clients in the peer-to-peer car rental business and offers an array of advantages:
Experience: over 10 years of experience in developing web and mobile applications, including peer-to-peer car rental websites and mobile apps. .
Expertise: a team of experienced developers who are familiar with the latest technologies and best practices for peer-to-peer car rental businesses.
Scalability: Our solutions are scalable, so they can grow with your business. We can help you to design and implement a solution that can accommodate your current and future needs.
Support: A2 Design offers ongoing support for your peer-to-peer car rental platform. Our team will help you with any problems that you may encounter and keep your platform up-to-date with the latest features and security patches.
Cost-effectiveness: We offer competitive pricing and flexible payment terms. We can help you to get the most out of your budget.
If you are seeking a full-cycle web and mobile application development company with experience in creating peer-to-peer car rental platforms like Turo, A2 Design is the ideal partner for you.
Our comprehensive services encompass everything from planning and design to development and deployment. We are dedicated to helping you establish a thriving peer-to-peer car rental business that aligns with your specific requirements.
Contact us today to learn more about how we can help you build your own Turo-like website right away.
Updated 24th November 2023