Project Lifespan: How we Work Remotely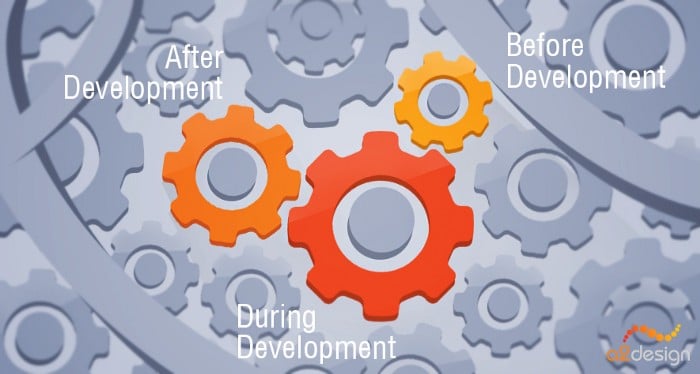 This is how we approach each project here at A2 Design.
Before Development
Split the project into phases (iterations)
We've discussed in depth the need to adopt an agile approach for projects that have a large scope.
The most important thing to do is to get started! Facebook was a single bleak page when it was first launched and look at it now! Building big projects takes time and resources, so splitting the whole project into manageable chunks is often the best possible approach.
Prepare specifications
We prepare clear detailed specifications for each iteration. The specification document contains the scope of work and the time/cost estimations associated with completing the deliverables.
Developing your project through a process of iterations allows you to have full control over the whole process and gives you flexibility. Iterations can be modified, e.g. the most urgent work can done first, and iterations will allow you to make sure you've chosen the right offshore developer: if your relationships aren't meeting your needs, you'll find out sooner rather than later, preferably before it's too late.
Choose the right design approach
If a project requires a custom design, we engage our web designer in the process. The majority of the time though, existing templates may be available that meet your needs. You can read more about custom design vs. pre-made templates here.
During Development
Collaborate closely
Here at A2 Design we believe that close collaboration between the developer and the client is extremely important. To this end, we conduct weekly meetings with the client so that we have the opportunity to discuss the progress that has been made to date and explore the features that are yet to be implemented. We listen to what the client has to say and take his or her feedback on board.
Ensure transparency
Our clients have straightforward access to every single detail of their project. Having started or finished a task, the developer will get in touch with the client and provide an update on the work that has been completed. You can expect total transparency when working with our team: we even provide daily updates for many of our projects.
Communicate efficiently
You are assured that you will find communicating with our team easy because everyone's English is pretty good and we've been working with foreign clients for almost 10 years. We even have an English tutor who comes to our office every week to help us perfect our written and spoken English.
Ensure clear accountability and straightforward payment
Detailed report of spent hours.
We track all the hours spent on the project. As already mentioned, we are completely open and transparent when it comes to our time and your money. Not only can you expect an in-depth report, you'll also be provided with full visibility of how much time was spent on every task.
Time and material
We work on a time and material basis because we have found this approach to be beneficial to both parties. Including some buffer in fixed time projects is inevitable and this ultimately results in inflated costs. Working on a time and material basis allows us to ensure that your costs remain at a minimum.
Invoices on a bi-weekly basis
We work hard to make our clients happy and we process invoices in a timely manner on a bi-weekly basis.
After Development
Provide full support
A2 Design is always here to support and maintain the project and are ready to help you when you need it.
Since most of our projects are ongoing and require extra work, we work on an hourly basis with our regular clients. Our clients see no limit to perfection and always strive to expand their businesses. We help them to not only build a good product, but also achieve the most efficient solution.
Provide ongoing maintenance
Need improvements? Urgent changes? We're up to the job and are always here and ready to implement any new changes and improvements.
Offer training sessions
Most of the systems we build are quite complex. In order to help our clients to explore and enjoy everything their newly-built product has to offer, at the end of the development phase we show our clients how to use their systems and websites in the most effective way. A special tutorial from us will help you to get to know your newly built system from A to Z.
Like the way we approach projects? Get in touch and work with us to bring your idea into reality.
Updated 4th December 2023