Being a Project Manager at A2 Design
What's it like to be a part of an IT company?
Trust me, this is one of the most difficult, but at the same time, breathtaking feelings I've ever felt.
It's 7 o'clock in the morning, the smell of hot and fragrant coffee is filling the office, and I'm reading a new email from a client who's asking us to implement two more features into his website.
It's a typical morning for a Project Manager at A2 Design. Today, the duty falls upon me to write an article about the company at which I've been working for more than a year from the perspective of someone who manages the working process at the company and keeps everything under control.
To be honest, I'm not a fan of those boring articles in which people describe their company's way of working in the best words trying to target more and more people to collaborate with them. I believe that the best way to share your passion is to give people an opportunity to put themselves in your place. That's why I've decided to tell you about my typical day as a Project Manager at A2 Design.
Shall we start our journey?
I get up at 6 o'clock in the morning and follow my daily routine to get ready for work. We have flexible hours in the office: That's the advantage of being a Project Manager here. So, if you don't feel like going anywhere, you can work directly from home. Usually, I get to work by 8 o'clock in the morning, make a cup of coffee, and set out to conquer the world. Or, in other words, check emails from our clients to ensure that everything is under control.
Working on my projects makes me feel completely alive. I don't usually leave my desk before our daily meetings since I've got a lot of stuff to take care of. For example, last week, we had an issue with one of our clients' websites. The website didn't respond, and I got a message at 11 o'clock in the evening asking me to take action. One of the main features of being a project manager is that, in addition to being a translator, I also need to be a developer (in some extension) and even a psychologist. Knowing how to communicate with the client makes your work priceless and almost flawless.
Time to put our progress on the table at the daily meeting. Managers usually gather at 12 p.m. to discuss the current situation at the company, how many projects we have, and whether everything is going according to schedule. Managing our schedule is very important since we must make sure that our developers are doing their job on time.
The meeting is finished, and I can finally go to our cafeteria to take a break, grab some food, and give myself about twenty minutes to read some articles or books.
Well, reading is great, but it's time to get back to work.
Our sales managers have just agreed with a new client on a range of terms to develop a social network for their company, and I need to discuss it with them. When we first contact a client, we discuss their project in general, then we get into the details, and then we discuss these with the developers to generate an estimate of time and cost. This is the point during a project timeline when the project is being born, and we must take as much care about it as possible. When we are done estimating the project, it's time to develop the proposal. This confirms everything that we've discussed with the client; as such, it's very important. And only then can we progress to the most interesting part—development.
As a girl from a foreign language department, when I started working at A2 Design, I found terms like WordPress, Laravel, MySQL, and other terminology very frightening. But practice makes progress and getting my head around it all turned out to be much easier than I had thought. My first project was to make sure that one of our developers managed to set up filters on a website. Today, I'm managing four projects, two of which have already promoted our company in their blogs. And the most exciting thing is that I'm continuing to learn more about my field—this is what I like most about my job. You never feel as if you are going to be bored to death. You always have something new to learn, something you've never heard about, and something that you should handle on your own.
Well, the end of my working day doesn't differ a lot from that of other people. All the tasks I've planned are done. I turn off my computer, grab my planner, and lock the cabinet before I leave for the day. I still have my phone with me in case of emergency, but right now I feel that I've just made the world around me a bit better. And it's going to be a bit better tomorrow. And much better in the future.
Do what you love, and your life will be as shiny as possible.
Diana
Project Manager at A2 Design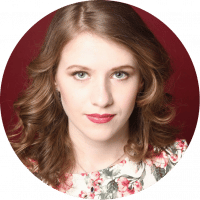 Updated 4th December 2023